Mobile Ultrasound Testing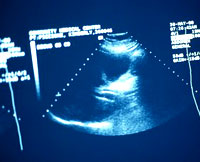 The Ultrasound is a well established and highly effective imaging modality. An ultrasound procedure produces images of any part of the body that is a gas-filled structure or is not covered by bone. This is a non-invasive, painless technique which does not emit ionization radiation.
Our Mobile Ultrasound service uses sophisticated techniques for high contrast image enhancement for tracking and identifying abnormalities. Our technicians are RDMS Registered, so your patients will benefit from the most up-to-date imaging techniques.
Abdominal Ultrasound
Gallbladder, Liver, Pancreas, Spleen, Biliary Tree, Kidneys and Abdominal Aorta
Small Parts Sonography
Breast, Thyroid, and Testicular
OB/GYN
Obstetrics and Gynecology
Echocardiography
2-D and M-Mode Echo, Cardiac Doppler, and Color Flow
Cerebrovascular Evaluation
Carotid Duplex Scan
Vascular Studies? Click here
Learn more about the Lackawanna mobile ultrasound team here.
Experience the Best in Mobile X-Ray Services
E-Mail or Call Us Today at 877-684-9729